---
Kindermusik recognises that the home is where most learning begins and grows. In order to enable you as the parent / carer with resources to continue the experiences of the lesson time in your home, each family also receives access to a unique set @Home materials through the learning portal.

Kindermusik Online has been built to make it fun and easy for parents to connect class time to home time, thereby enriching both experiences. Kindermusik is committed to helping children learn to the best of their ability, which means including the latest technology AND lots of hands-on, movement rich, in-your-lap, down-on-the-floor learning. This is a philosophy which aligns with the NAEYC and the Fred Rogers centre for Early Learning.

Once your account is registered, you can access this portal by logging in to my.kindermusik.com from various devices, including iPad, tablet, laptop, computer or smartphone, making it easy to use in the home or on the go. (Scroll down for links to videos to take a tour and 'how to register' information.) Your access to this is UNLIMITED and can be enjoyed long after classes have been completed.

Educational activities available through Kindermusik Online include:
- Music downloads
- Literature in ebook format, flip through the pages and turn audio on or off.
- Why It's Good For Your Child area provides parental information on why these educational activities are useful, important and developmentally significant.
- Download Centre provides printable activities pages and printable lyrics pages for all songs in the unit.
- Activity buttons lead to a variety of different activity types, such as: dance and movement instructions, fingerplay demonstrations and instructions, together in the kitchen activities, music time, listening games, vocal play activities, video field trips, find and count type activities, ideas for pretend play ... and more!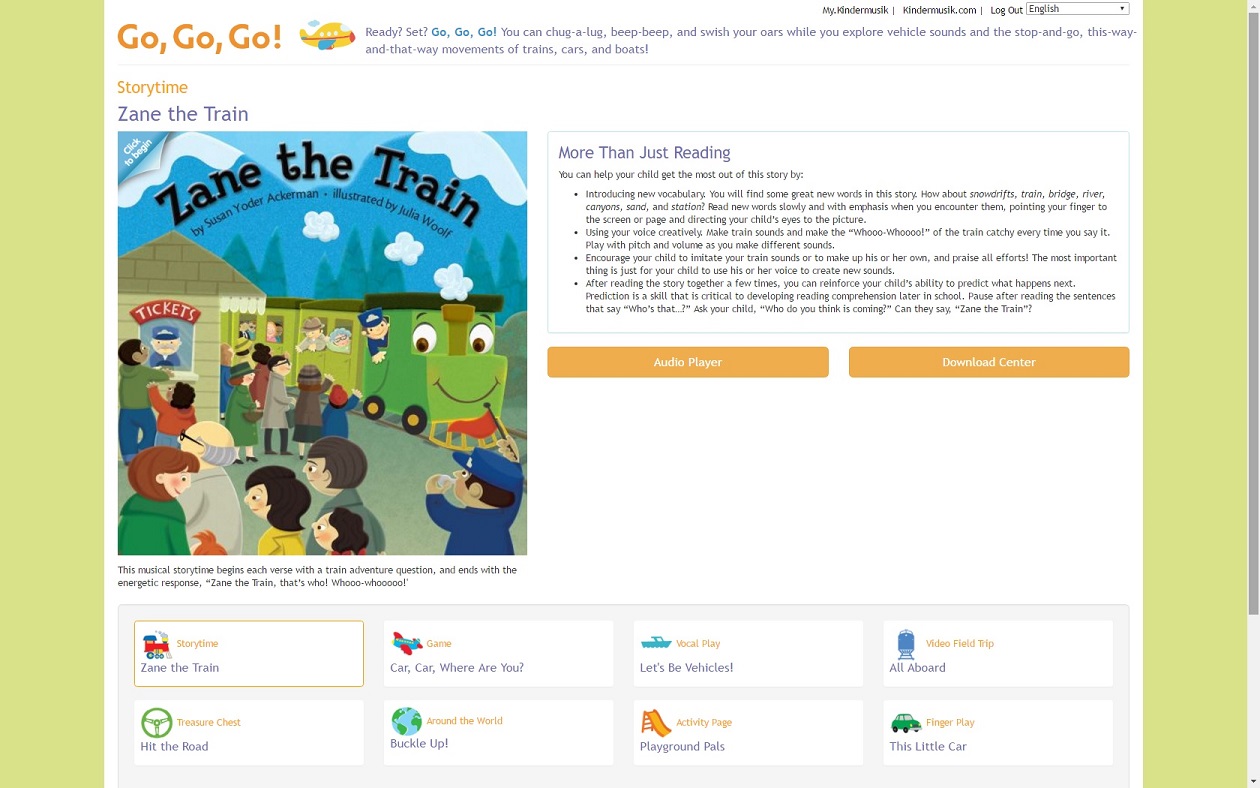 The time YOU spend with your child NOW is absolutely critical for development throughout their life.
This is a window of opportunity for you to invest in your child's future development. Kindermusik Online is your invitation to spend some fun and enriching moments with your child NOW when it's important.



TAKE A TOUR:
on your pc / on your mac / on your device

HOW TO REGISTER YOUR ACCOUNT: on your pc or mac

How to UNZIP and BURN files:
* Click on album link to download.
* Open the download.
* Click to Extract or Unzip the file. (The word EXTRACT or UNZIP may appear toward the top of your screen or may be accessed by a right click.) Most computers come with software to extract files and will know exactly what to do. If your computer does not, you can download free software, such as 7zip.
* Choose where you want to save the album. Eg: create a folder 'Libraries/Music', then sub-folders under that for the class and unit you're using. Eg: Libraries/Music/LaughandLearn/MakeBelieve
* In order to transfer music to your phone, iPad, iPod, or burn to a CD, you can then copy the audio files into iTunes. It is free to download and easy to use. Just drag or copy/paste the audio files into your music library on iTunes.
* Create a playlist in iTunes. Click on File (top left corner), select New Playlist. It will create a place for you to give your playlist a name, such as the name of the album.
* Drag the new tracks from the music library into your playlist.
* To burn a CD, click on the same file tab (top left corner) and select Burn playlist to disc.